Bruxism Night Grinding is the involuntary grinding or clenching of the teeth.
It can generate tremendous force on the teeth causing broken teeth, loose fillings and loss of tooth enamel. Proform night guards require little to no adjustment at insertion stage and can provide relief for your patients due to their comfortable, fit and high wear resistance. Suitable for light – hard bruxers.

The use of night guards can lead to the reduction of parafunctional intensity and headaches and alleviate symptoms of
TMJ dysfunction.
---
PROFORM Milled Splint (HARD)
Advantages:
Slimline design with customisable thickness
Smooth gliding surface for optimum comfort
Clips into undercuts – no need for metal clasps
Most suitable for medium to heavy bruxers
---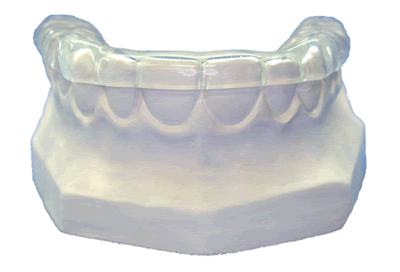 PROFORM OCCLUSAL SPLINT

(leading night guard)
Advantages:
Soft fitting surface for comfort
Customised to suit any patients dentition
Available in 3mm and 4mm thickness
Hard outer shell for medium/high level bruxers
Flat plane - limits clenching.
---
PROFORM Night Splint (Soft)
Advantages:
Soft inner/outer shell for patient comfort
4mm thickness of material
Appearance - not foreign to patients
Light bruxers only
Full maxillary coverage.
---
PROFORM ANTERIOR JIG
(Clenching inhibitor)
Advantages:
Anterior fitting appliance only
Prevents posterior teeth from clenching
Minimal dimension of appliance
Suitable for medium/high bruxers
Thermoplastic internal lining for both comfort and an accuracy of fit.